Socoa was a French full-rigged steel ship built at Chantiers de St. Nazaire in 1901. Tonnage: 2613 tons. On the 2nd August 1906, she was on a voyage Stettin - San Francisco with a cargo of cement for the rebuilding after the earthquake, when she was stranded off Kildonan Point, Lizard in dense fog, she was re-floated after jettisoning 50000 barrels of cement and beached in Cadgwith Cove. If you know where to look, you can still see the barrels on the seabed. She was later towed round to Falmouth and repaired. In 1907 she was sold and re-named Thiers and was continued to sail under the French flag until laid up in 1921. Thiers was sold to the breakers in 1927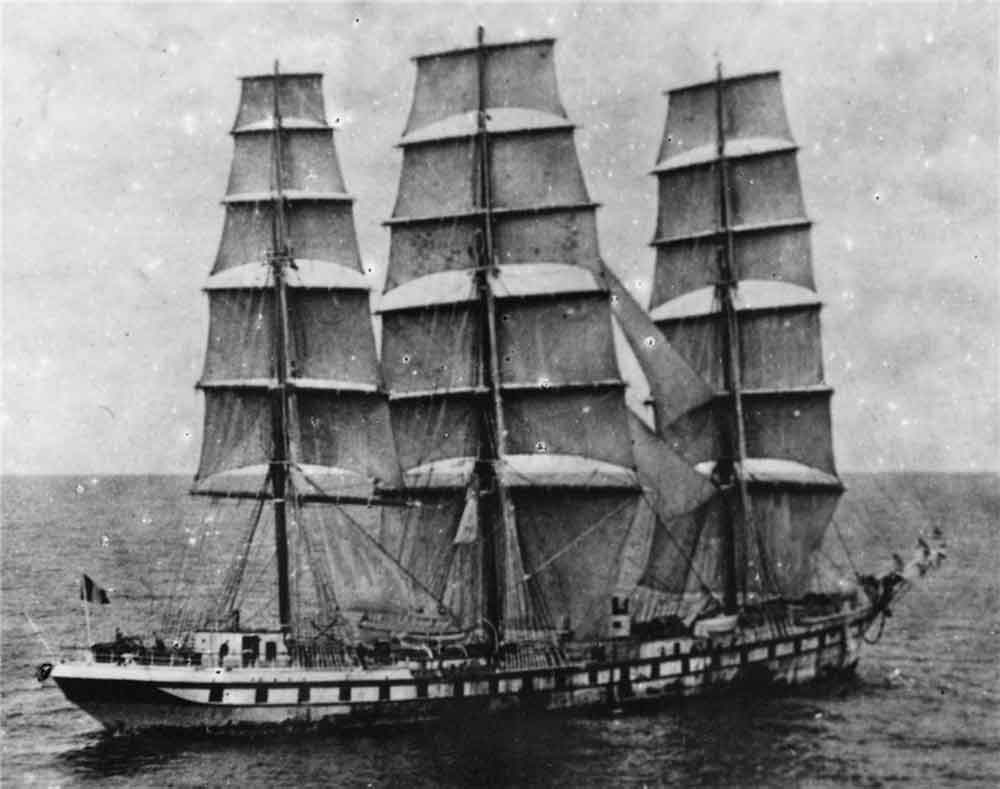 Socoa under sail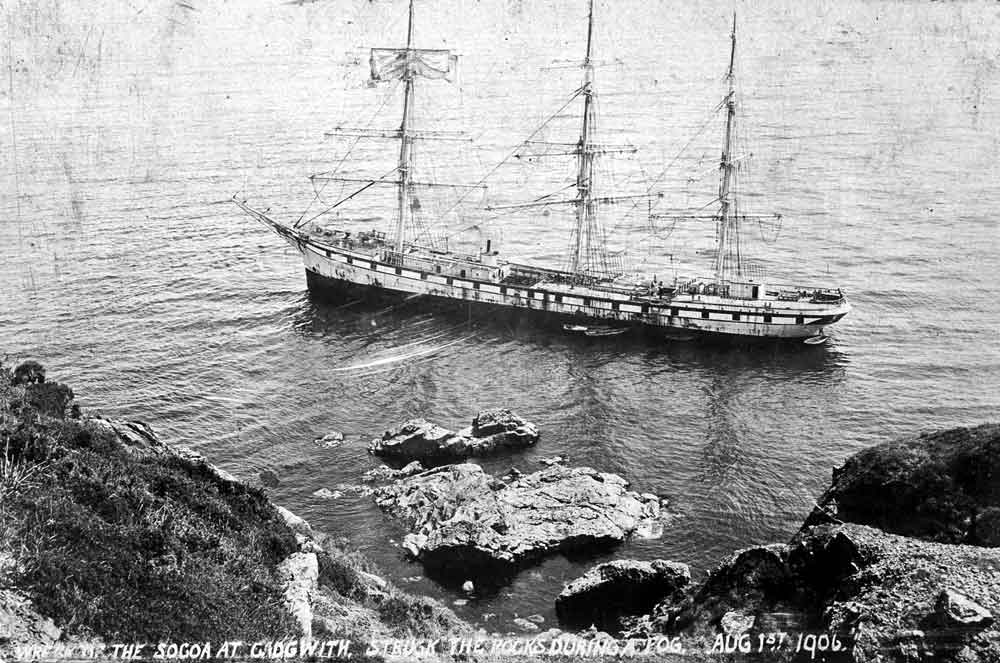 .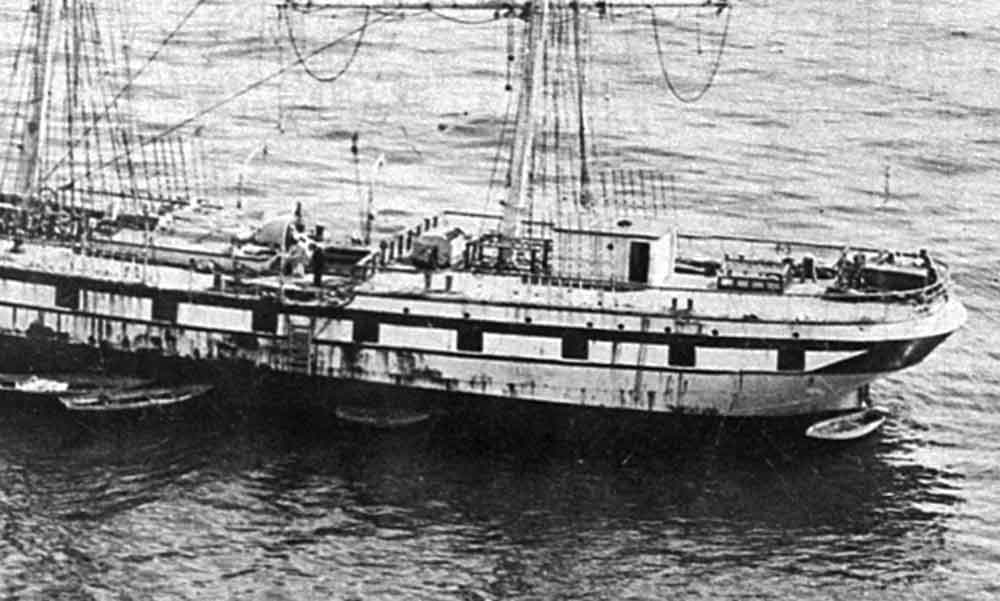 Enlarged detail of the picture above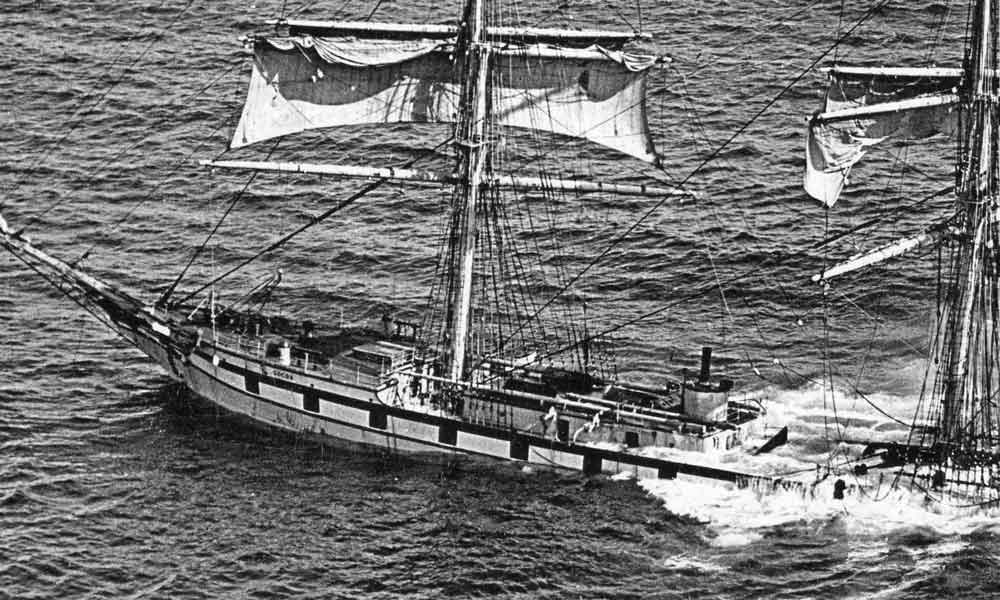 Enlarged detail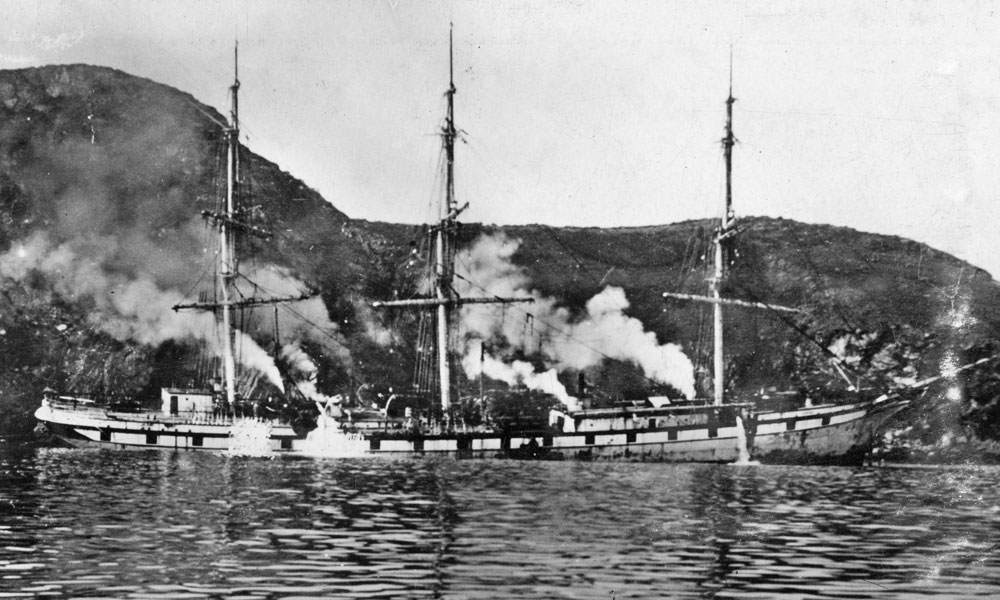 I have seen this picture captioned as "Shipwreck on Fire" The "smoke" is actually steam from the steam powered pumps which were craned on board to pump out the hull once the barrels of cement were jettisoned. If you look carefully you can see a large jet of water from one of the pumps just forward of the foremast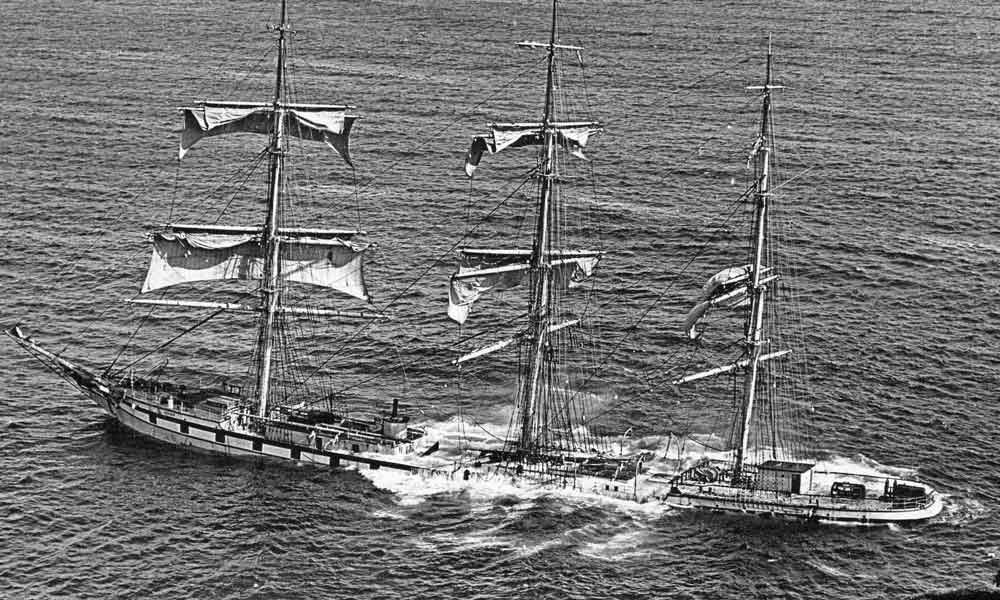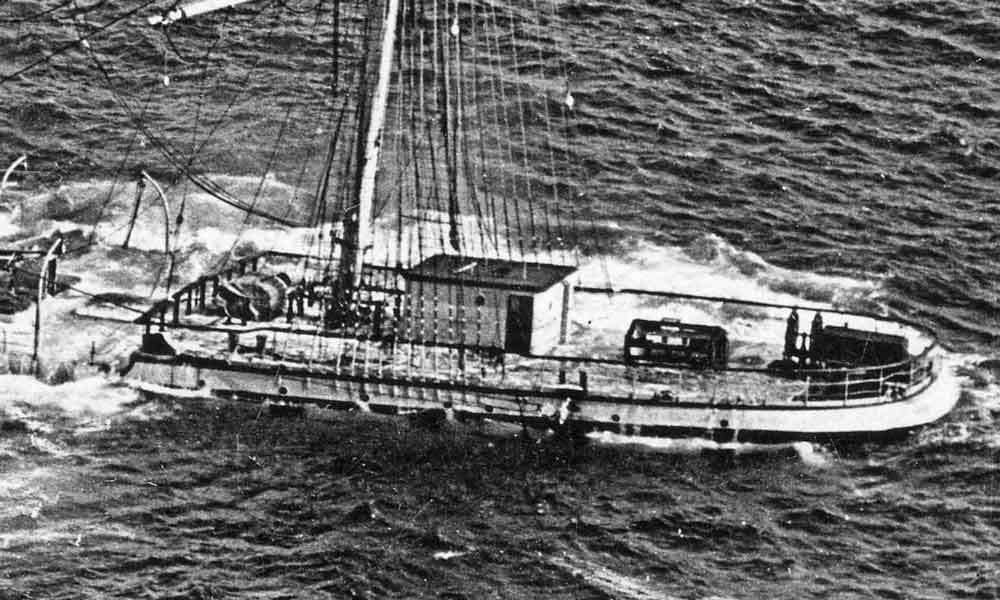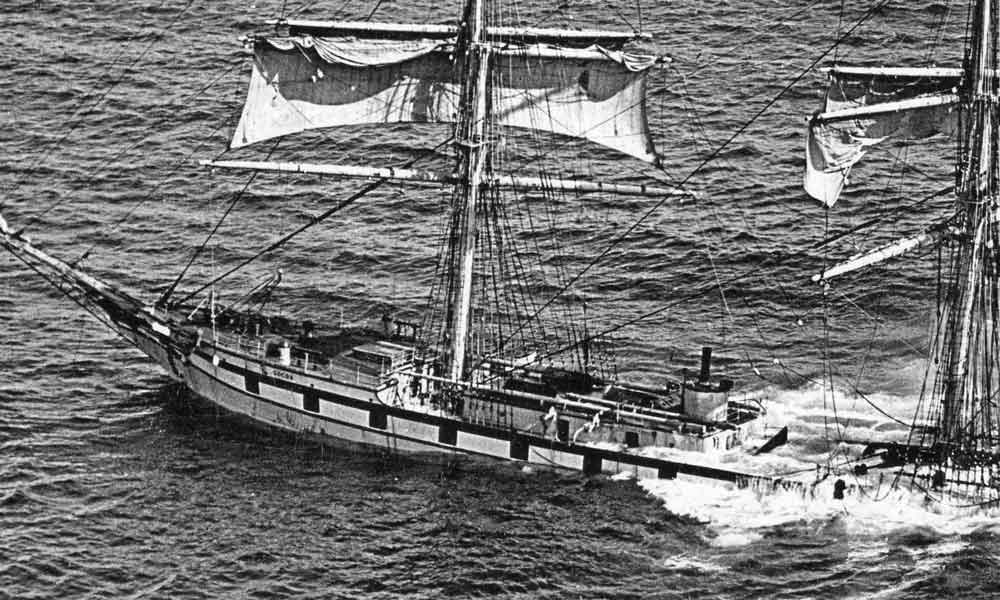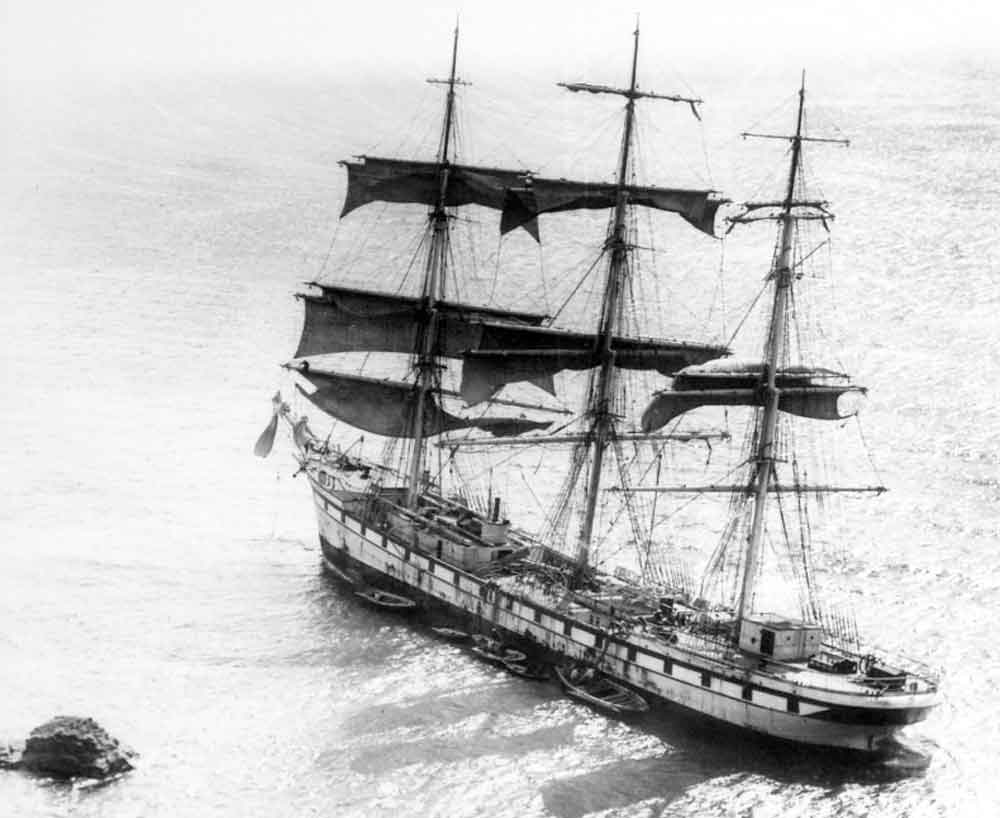 The squares along the sides are not gunports, just black squares painted on to look like gunports. The forerunner of "go faster tape!"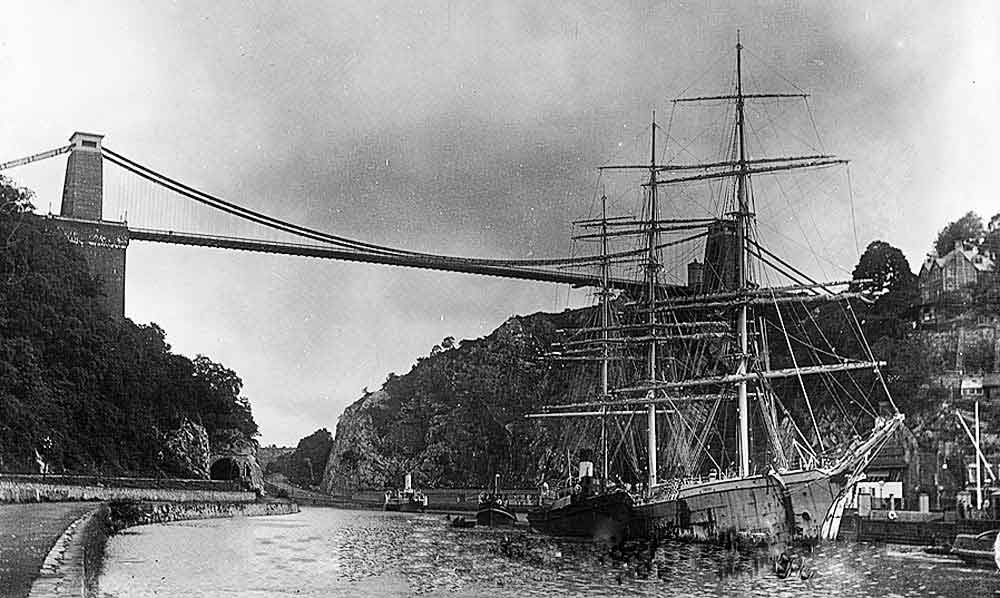 Socoa passing under the Clifton Suspension Bridge
Socoa in Bristol
Previously printed in the Grade Ruan Gazette in June 1990
Written by the late John Bourne
On April 29, Cadgwith's new Pilot Gig, the Socoa, was named in the Cove. The star of the ceremony was Annie Moor, the mother of John, the builder of the boat. She sprinkled the champagne and gave the traditional blessing. Later, the Gig club was very touched by Annie's gifts - not only of £25 for the boat, but of a cake stand bearing Socoa's name as "a trophy to be awarded for gig racing". The porcelain stand came from the original Socoa and was given to Annie by her grandfather, Henry Jane. He received it for helping to float the French ship off the shoal where she grounded just north of the Cove in 1906.
Henry was bowman of the Cadgwith Lifeboat, Minnie Moon.
Many visitors, and even a few locals, have asked why the new gig should be named after the ship Socoa. Socoa was the most popular choice when the vote was taken at a general meeting of the Club. The reason is the link between the ship and the late Buller Arthur, who inspired the renaissance of gig rowing by Cadgwith men at Newquay races after the Second World War.
When Harry Arthur, Buller's older brother, was a young man, he painted a picture of the Socoa on the central window embrasure of the Arthur family's home, which is still called Ship Cottage. Harry was killed in the First World War, when he was in the Navy and his anti-submarine netting boat was shelled by an Austrian cruiser in the Adriatic. Afterwards, Buller faithfully re-touched the painting whenever the weather got to it, until his death in 1982. The picture was then covered over. The present picture of the Socoa in the embrasure was painted by [the late] Tony Culmer, a great nephew of Buller, who used to do a bit of coxing for the Gig club. Steve Collins, the Club's chairman, is another great nephew.
You can see the latest, (and back numbers) of the Gazette here.

Our own Socoa